Klimaoase Linz Lustenau 2021-2025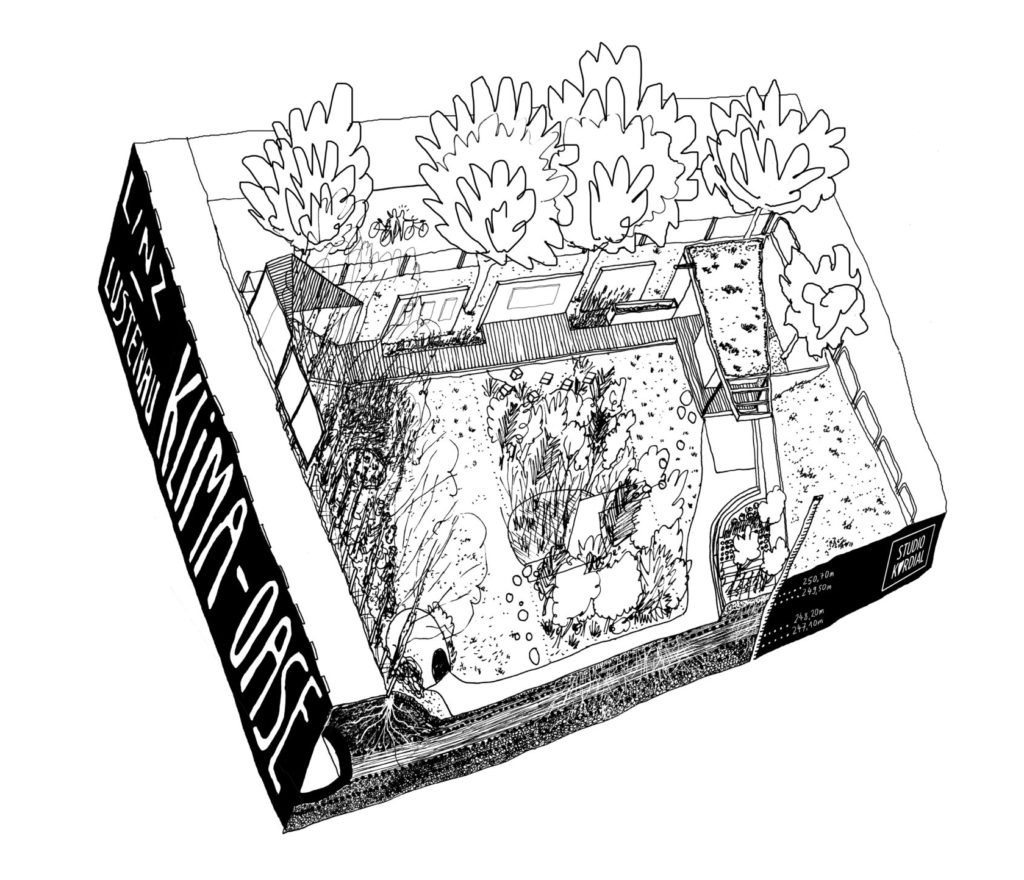 ABOUT THE PROJECT 
In the heart of the Linz industrial area, on the Hollaberer estate, there is a climate protection garden (Klimaoase) on the western part of the property was created and could thus be saved from further sealing by the new use. A soil nature trail, a natural micro forest (tiny forest) and an open classroom are intended to convey the importance of soil protection and climate protection. In this way, visitors and school classes can be brought closer to the environmental history of this location. From 2023, a generously covered pavilion will offer a weather-protected place for various workshops around the garden (pastures, clay floor workshops …) as well as external uses in the sense of recreation (mental health, yoga, tai-chi, qi-gong). take place in direct relation to the garden. Visitors actively support the preservation of the small refuge by participating in the special offer. When building the soil nature trail, special emphasis was placed on resource-saving construction (regional wood and urban mining). The local recreation area can be used by registering with the Schwemmland association. 
Klimaoase founder and project lead Christoph Wiesmayer first approached me following a talk I gave for Stadtwerkstatt, during the first Covid wave in spring 2020, where I showed my 2000 ltr IBC aquaponics system amongst other things. Both being fans of upcycling and also IBC tanks, we started discussing project possibilities and as I moved from the 3erH0F verein and left behind my greenhouse and farming plots for the city, it seemed to be a great option to take over some allotments at the Hafengarten community field. I  alsomoved my IBC system there and started prototyping ways of optimising the water flow and waste processing/disposal. The focus shifted from food production and optimisation of fish growth (in exchange for lowered living conditions for the fish and constantly needing to run off the waste, due to not having enough garden beds to filter and stabilise the cyclic water flow system) to a more sustainable and happy solution. A concept for a solar powered, carbon positive system that, rather than being a sterile plastic tank, functioned more as a natural ecosystem, albeit with 2 x 150 ltr microbial bio refinement tanks. 
Thanks to the Stadt_Linz Klimafond, both the Klimaoase and my Islands of the Day Before projects received generous funding and now, we are in the final stages of building a very unique aquaponics system for the Klimaoase, to open in late June 2023. 
We will soon be finalising the dates for our  summer workshops and events, including a project launch dinner event at the end of summer.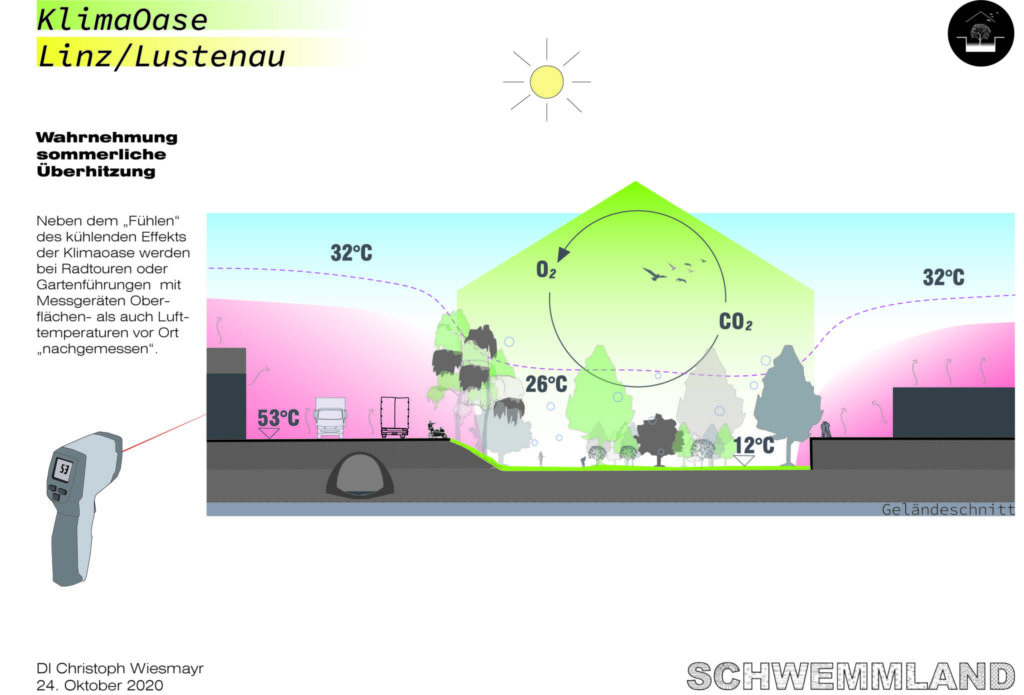 AQUAPONICS 
For this project a unique aquaponics system has been developed, as both a public facing exhibit for communicating both the project and local fluvial ecology, and also to produce waste to be used and tested in a 3 year microbial /soil toxin regeneration study, in collaboration with Dr. Julian Chollet. The study compares soil inoculants produced from a fungal/bacterial bioreactor (that repurposes my IBC tanks now for a 4th project!), this aquaponics system and from regular compsting with a worm farm, in order to measure soil recovery from the negative effects of industrialisation. 
This aquaponics system is unique, in that it uses steel planter beds with volcanic stones and all natural biofiltration, refinement and bacterial housing materials. It also optimises water flow, so that from a single pump, the fish waste is pumped up 2.5 metres into the double biofiltration and refinement station, where from there, it simply uses gravity to then flow back through the plant beds and into the fish tank: a process that significantly reduces energy costs (and therefore the solar requirements) and also is designed to maximise water oxygenation along the way. Another unique aspect is that the fish tank is made entirely of recycled wood, using an old tongue and groove joining method to seal everything together.
Finally, the number of fish has drastically reduced down to just a handful of juvenile local (vegetarian) carp species, again lowering the carbon footprint by not requiring meat based proteins and also the costs of feeding. To keep the carp happy, local species of aquatic plants will also oxygenate the water and provide much needed shade and shelter.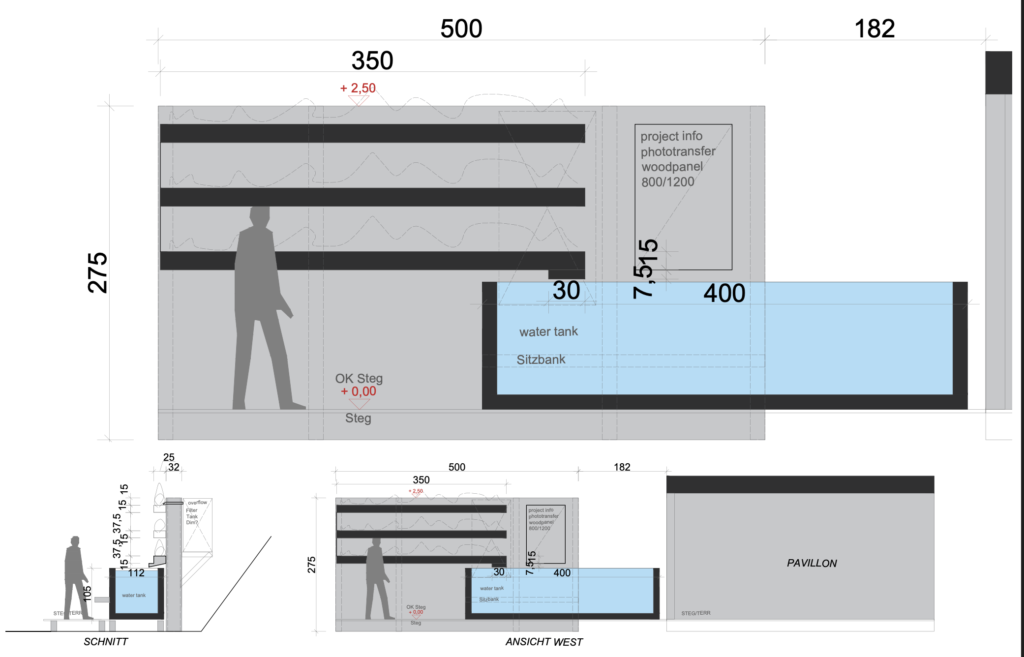 TeleAgriCulture Implementation 
For this project, a bespoke solar energy system has been developed with local engineer Branko Radicevic, along with the water and air pumping system. This is both controlled and monitored by our new generation TeleAgriCulture sensor kit and will run on LoRaWAN, a low-power, wide area networking protocol built on top of the LoRa radio modulation technique. It wirelessly connects devices to the internet and manages communication between end-node devices and network gateways. 
The Klimaoase site will in fact house the LoRaWAN gateway and will connect all other partner site locations in Linz and then network this globally via our custom mobile application, where the environmental conditions can be monitored, including:
temperature
humidity
water level
pH
dissolved oxygen
gases including O2, CO2, CO, and VOCs
grow bed root system moisture
water flow rate
electrical conductivity (in the grow medium and water)
Oxidation-Reduction Potential
noise levels, and
energy status for the solar system.
This data will then be mapped into a global monitoring network that merges biotopic conditions (such as those at the Kliamaose, that are very different to the surrounding areas) with open weather date to both compare and compensate for data discrepancies. This information will then be used in innovative solutions for communicating local weather and ecology to the public.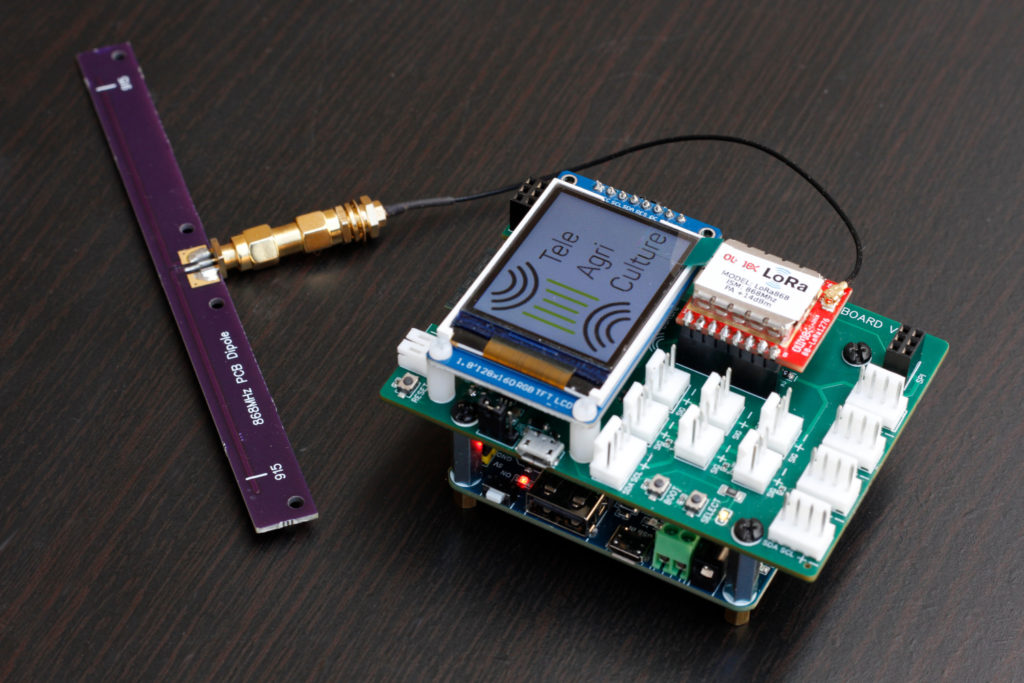 PROJECT SCOPE
My contribution to the Klimaoase, in terms of scientific study, technological innovation and creative public engagement, is currently planned through to late 2025, however it is our intention that the aquaponic system be a permanent feature at the site and that the data ecosystem will also remain long into the future. For more information regarding the Islands of the Day Before Project please refer to the project page.