Riverbank Buffet Performative Public Dinner, Exhibition and Workshop, Stadtwerkstatt 48x7 OUT OF MATTER Fastival 2021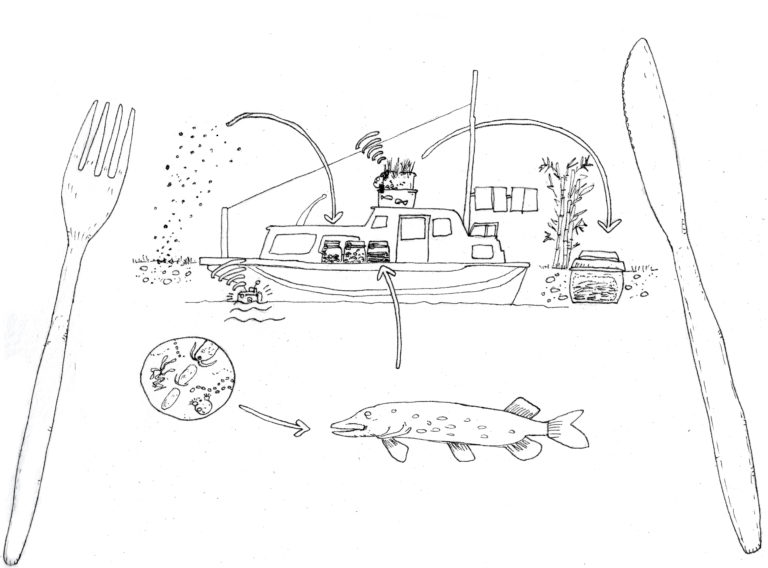 Concept 
Riverbank Buffet uses public, artistic approaches to raise awareness of food and the environment, using the theme of microbiology as a catalyst for change.
Much like a buffet, this project brings together several different approaches to food production from around the world, into a single ecological palette for all to enjoy, using food that is grown exclusively along the Danube, using both traditional and modern methods that address issues of pollution, ecosystem recovery and health, through artistic analysis and experimentation with microbes.
The project presents an approach to public engagement in local urban ecologies, incorporating the idea of tiny tastings of food, science and ecological farming that all relate to this central idea of riverbank-based food, presented as a buffet style picnic that then continues as a workshop the following day. This collection of small art, science and culinary projects scale food ecologies from the microbial to the human world.
Presented as a dégustation menu, these 'tiny bites' will each consist of a small dish, a drink and an ecological artwork. The site of this project, Stadtwerkstatt Deckdock is a high-traffic area used for leisure and we aim to spread awareness through public, artistic approaches to food that use microbiology as a catalyst for change.
For the public dinner, coinciding with the opening night of both the Stadtwerkstatt 48×7 and Ars Electronica Festivals, we journeyed through Linz's local fluvial ecologies, encountering 10 different bite size dishes and drinks, all made from locally grown crops (by Julian) with their nutrients being enhanced by various microbial fermentation processes. Each dish accompanied by a curated bio-digital artwork.
This project brought together several different approaches to food production from around the world, as well as adding a twist to Austrian cuisine. Using food grown exclusively along the Danube, prepared with traditional and modern methods that address pollution, ecosystem recovery, and health through artistic analysis and experimentation with microbes.
Locations 
TeleAgriCulture Test Kitchen @Rudolfstraße: A test kitchen for fermentation as well as an urban space for farming. Situated in a heavy trafficked area around Rudolfstraße since 2021, it explores communal approaches to sustainable agriculture.
Deckdock @Donaulände: The site of the Riverbank Buffet. Deckdock is a stretch of land along the Danube dedicated to cultural activity, run by Stadtwerkstatt since 2009.
Hollabererhof @Industriezeile : The Hollabererhof is a family-run farm located in the middle of the industrial harbour area of Linz. Although currently surrounded by industry, it has existed at its exact location since the late 15th century (1485). Christoph Wiesmayer's Schwemmland facilitates the Hafengarten: the first community garden of Linz, where most of the food for this project was grown. Franz Wiesmayer, the last fisherman of the Danube, provided the fish.
The day following the dinner was a workshop that went into the details behinds all the food and artworks in the event from previous evening. 
A second workshop also took place at the TeleAgrCultre Test Kitchen the following week to accommodate local friends and people who had other festival commitments. 
The project was kindly supported by Stadtwerkstatt and the Makers Xchange initiative, an EU funded pilot programme that enables organisations to invite makers to travel and work on small projects with them. For this project Julian invited Roland van Dierendonck on behalf of Stadtwerkstatt and we also benefited from several online mentoring sessions, with particular thanks to the Center for Genomic Gastronomy whose advice was a huge help! Also thanks to all our friends that helped us prepare over 600 individual and very complex dishes over the 3 days prior to the invent, including Špela Petrič , Miha Turšič , Nani Cooper, P, Chappy and all the totally random, lovely strangers who Miha told to come and help and and for some reason totally did! Also thanks to Franz, Marie and Christoph at Holabeererhof and the Hafengarten farming buddies so made the long hot days growing all the food fun! 
Documentation
Augmenting Ecological Aesthetics article in Versorgerin Journal 
Stadtwerkstatt 48×7 Festival Site